ANDHRA PRADESH
Kalyanadurgam
Kalyanadurgam Project was initiated in April 2016 and is situated at distance of 58 KMs from Anantapur, the district headquarters. It is around 250 kms from Bangalore.
Geographical area of operation
Anantapur district is having 63 mandals and CCD is already working in 9 mandals with its office at Puttaparthi and expansion at Kalyanadurgam in 14 mandals in Andhra Prasesh state and 4 hoblis (Blocks) in Tumkur district of Karnataka state such as: Kalyanadurgam;Settur; Kundurpi; Kambadur; Beluguppa; Brahmasamudram Atmakur, Battalapalli, Tadimarri, Narpala, Bukkarayasamudram, Yellanur, Kanaganapalli, Rapthadu mandals, Nagalamadake,Niegal,Y.N.S.Kote and Pavagada hoblis.
The average rainfall
The average rainfall of the district is 560 mm per annum.
Target Groups
Small, marginal tribal farmers.
Village Meetings
As part of in Cooperative formation process, Field Officers were conducted couple of meetings in the potential villages.
Capacity Building
Exposure Visits
As part of its initiative to promote and strengthening the Commodity Cooperatives, staff organise visit to places where the cooperative concept is strong and well proved. The members of newly formed cooperatives will be taken to existing operational place of Sri Satya Sai Federation Mill, situated at Guttur village, Penukonda Mandal.
Trainings
As part of regular effort to build the capacity of farmers, ongoing training along with Reorientation trainings to the Board of Directors (BODs) will be held twice in a year. These training focus on Cooperative Principles and Business Rules for the Executive Committee members of all the Cooperatives. The Executive Committee members of all the cooperatives will undergo this training covering the topics like:
Concept of the Cooperatives
Membership and Roles & Responsibilities of a Member
Executive Committee –EC and its Roles and Responsibilities
President and General Manager – Their Roles & Responsibilities
Procurement – Terms and Conditions and Quality aspects
Members' Savings and its importance.
These trainings help the members to refresh their vision towards the importance of Cooperatives, how to lead them in the path of success.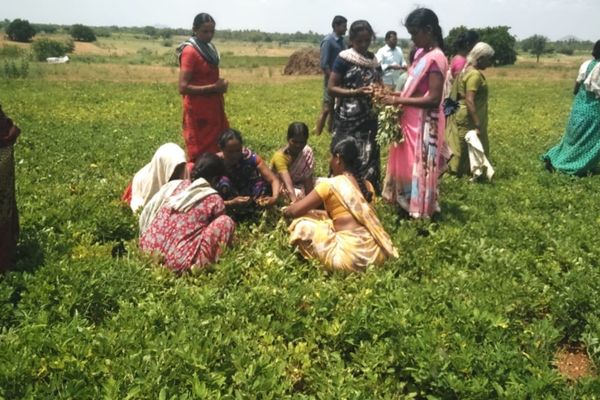 Book-keeper trainings
Maintenance of books at the cooperative level, Handling of cash, Procurement Systems, Quality Check etc., are also regular trainings.